¡¡¡Hola Belug@s!!!. Nuestro viaje nos ha llevado de nuevo a la Ruta 66.
En esta ocasión nuestro recorrido nos ha llevado hasta el trazado que va desde Nuevo México a Kansas, pasando por Texas y Oklahoma.
En esta parte de la Ruta 66 descubriremos algunas de las paradas que inspiraron la película Cars y algunos de los pueblos que, debido a la creación de la I40, están desapareciendo sin remedio, y que gracias a la leyenda y la historia que atrae a todo el mundo a la Ruta 66, aún conservan la esencia de años pasados y ofrecen lo mejor de la legendaria carretera madre. 
Aquí os dejamos nuestra ruta y nuestros imprescindibles en esta parte del viaje. 
Tucumcari
Situado en el estado de New Mexico, esta pequeña población es la imagen de la consecuencia del progreso.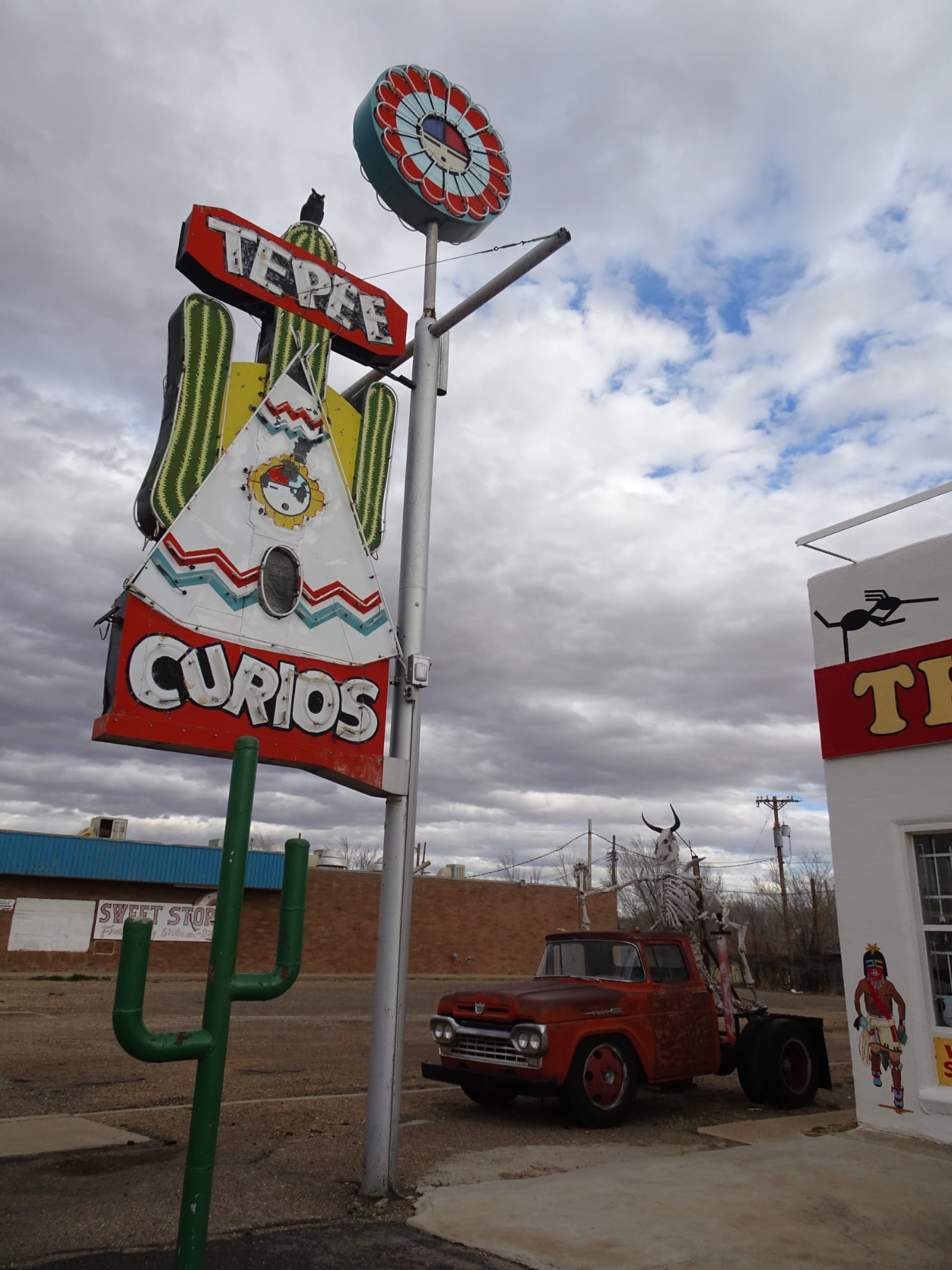 Con muchos de sus negocios cerrados, Tucumcari es parada obligatoria por sus gigantes murales de artistas callejeros y restos de, lo que en el pasado fue, una población por donde la Ruta 66 hacia parada.
Su mayor atractivo es la antigua gasolinera Texaco situada en el 1201 E Rte 66 Blv.
Cadillac Ranch
Situada en Texas, concretamente en la ciudad de Amarillo, la Ruta 66 comparte trayecto con la Interstate 40 y da la bienvenida a todos los que hasta aqui se acercan, con el famoso Cadillac Ranch.
Se trata de un paraje donde hay semienterrados en el suelo diez antiguos coches de la marca Cadillac. Los encontraréis en el lado sur de la Route 66, a unas 9 millas al oeste de Amarillo.
El Cadillac Ranch fue construido en 1974, siguiendo la idea y las indicaciones de Stanley Marsh, millonario gracias a la industria del helio, y propietario del campo de trigo lleno de polvo donde están colocados dichos cadillacs.
Marsh y The Ant Farm, un colectivo artístico de San Francisco, reunieron cadillacs usados representando la Edad de Oro delos automóviles norteamericanos, de 1949 hasta 1963.
Los 10 coches, decorados de graffiti, están medio enterrados por la parte delantera, mirando al oeste en el mismo ángulo que las pirámides de Keops.
Este paraje, cuyo acceso es gratuito, ha adquirido mucha fama, y por el suelo verás multitud de latas de pintura de los graffitis, que aún a día de hoy, se siguen haciendo.
Elk City
Esta pequeña población del estado de Oklahoma, esconde el National Rt 66 and Transportation Museum, un precioso e interactivo museo que bien merce una parada.
Con representaciones a tamaño real de los negocios que se encontraban en la Ruta 66, el National Rt 66 and Transportation Museum es ideal para ponernos en situacion y sentirnos como en la legendaria carretera madre.
El precio de la enrrada oscila entre 1 y 5 $ y su horario es de 10 a 16h. de lunes a domingo.
Sapulpa
Heart of Route 66 Auto Museum, y el World's Tallest Pump, el surtidor mas grande que existe en el mundo, os dan la bienvenida a esta pequeña población, aún en el estado de Oklahoma.
Si vuestra pasion son los coches y apreciais un buen clasico, este museo es para vosotr@s.
Antes de volver a la carretera os recomendamos parar en Gasoline Alley Lady Luck, una increible tienda llena de recuerdos y objetos restaurados de la Ruta 66.
Muchos de ellos no estan a la venta, pero parar aquí es como hacerlo en un museo. Ademas, su personal es increíblemente amable y os haran unas fotos chulísimas.
Tulsa
Redfork Depot es parada obligada aún en Oklahoma. La antigua y perfectamente conservada estacion de tren de 1884, os dejara con la boca abierta.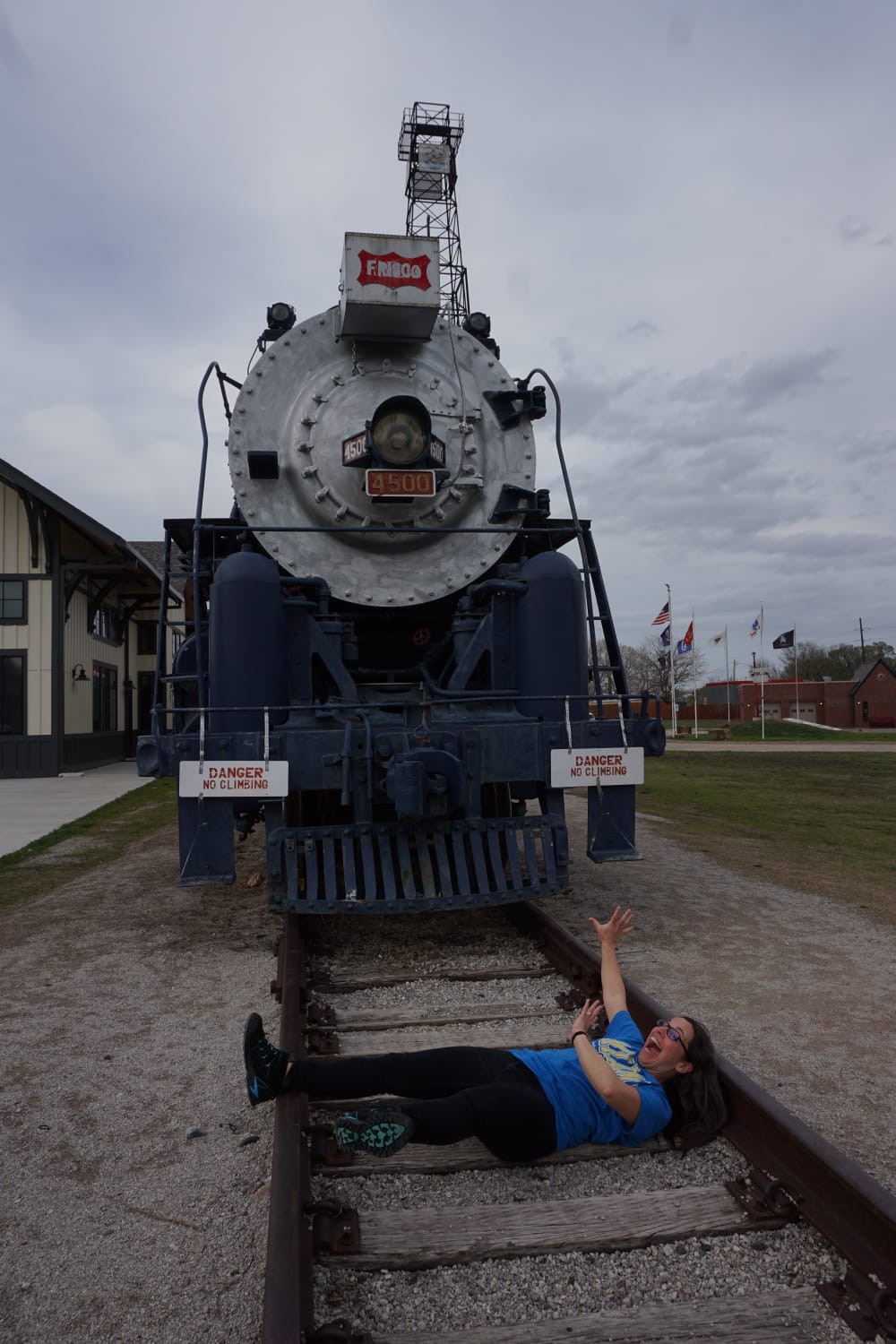 Al lado, una antigua gasolinera de la Phillips 66 en perfecto estado, os dejara con la boca abierta.
Y si eso no fuera suficiente, un cartel gigante de la Ruta 66 a su paso por Oklahoma os despedirá antes de tomar rumbo a vuestra siguiente parada.
El Parque de Bomberos nº 4 es el mas grande de la ciudad, segun afirman sus bomberos, que han sido los anfitriones perfectos en nuestra parada. De la mano de Nolan y de sus compañeros, hemos tenido la gran suerte de conocer el parque y como es una jornada para ellos. Desde el gimnasio, los dormitorios, hasta la cocina, todas las estancias al descubierto para nosotras.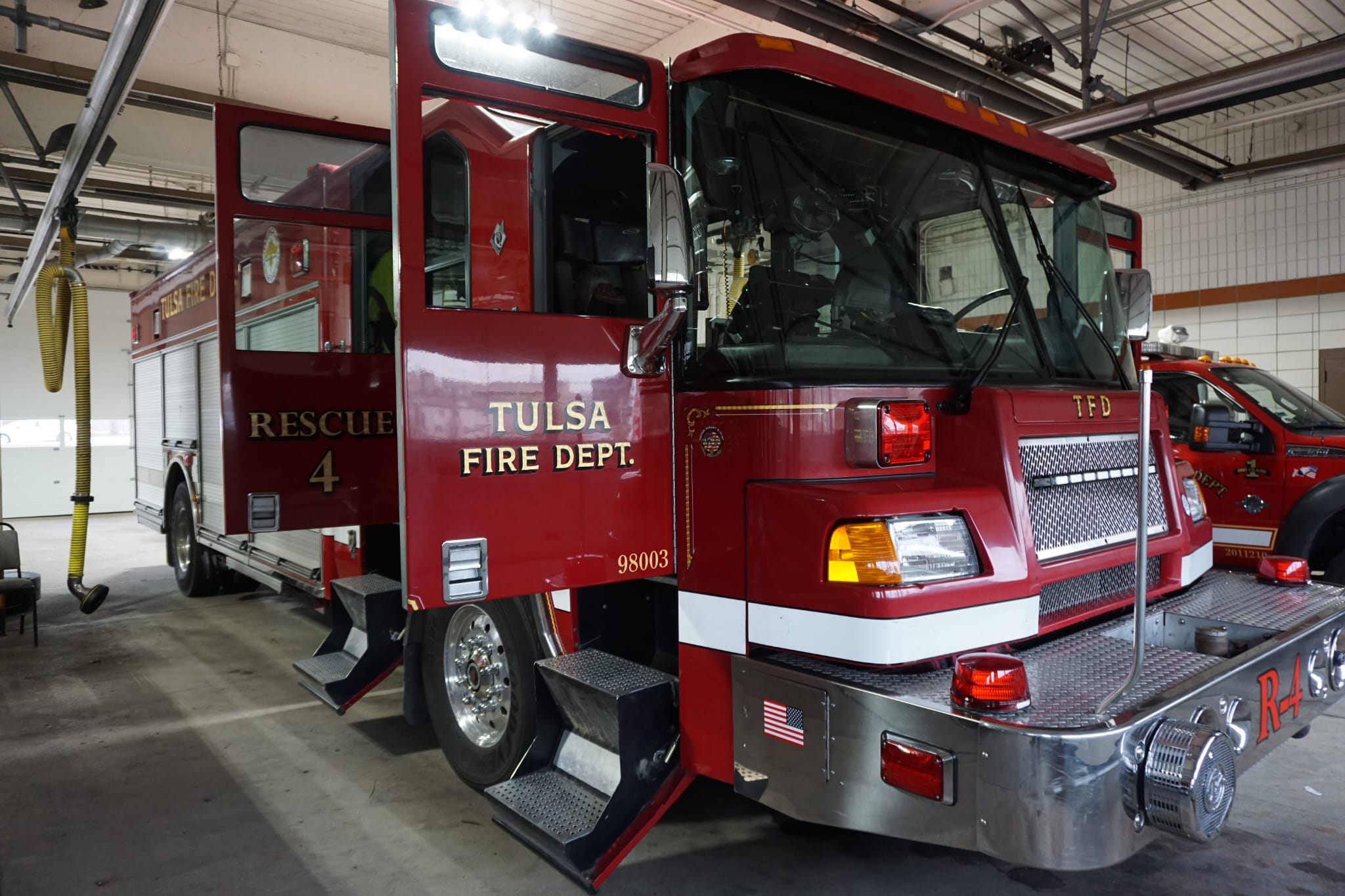 Seguimos en Tulsa y es hora de conocer Buck Atom's Cosmic Curios on 66, otro de los famosos gigantes, que durante la época dorada de la carretera madre, servía como reclamo publicitario para las cafeterías y restaurantes. Este se encuentra en perfecto estado y bien merece un alto en el camino.
Miami
Situada en Commerce St. la Allen's Conoco Fillin Station es uno de los referentes del pequeño pueblo de Miami, Oklahoma.
Justo en frente también encontraréis lo que en su día fue un bonito restaurante, ahora totalmente abandonado.
Route 76 Ribbon Road Sidewalk Highway Landmark conmemora el paso de la ruta por la zona y es un referente del pasado.
Baxter Springs
Nuestra siguiente parada es Baxter Springs, otro de los antiguos pueblos de la ruta, aún con bastante actividad, ya en el estado de Kansas.
Aquí encontraréis algunos buenos murales para sacar unas fotos y si tenéis tiempo os aconsejamos que paréis.
Cars On The Route
De nuevo en la Ruta 66 volvemos a recorrer algunos kilómetros más, por el estado de Kansas, para llegar a Cars on The Route.
No es ningún secreto que la película Cars, de Disney-Pixar, es un emotivo homenaje a la Ruta 66, sus lugares, paisajes y gentes. Y muestra de ello son estos personajes que encontramos en Galena, un pueblo que además de esta parada legendaria, os oferta algunos murales increíbles.
Nuestro recorrido acaba aquí, pero estamos seguras que hemos dejado muchas joyas escondidas en el camino, así que es sabemos que volveremos, la próxima vez para realizar la ruta al completo.